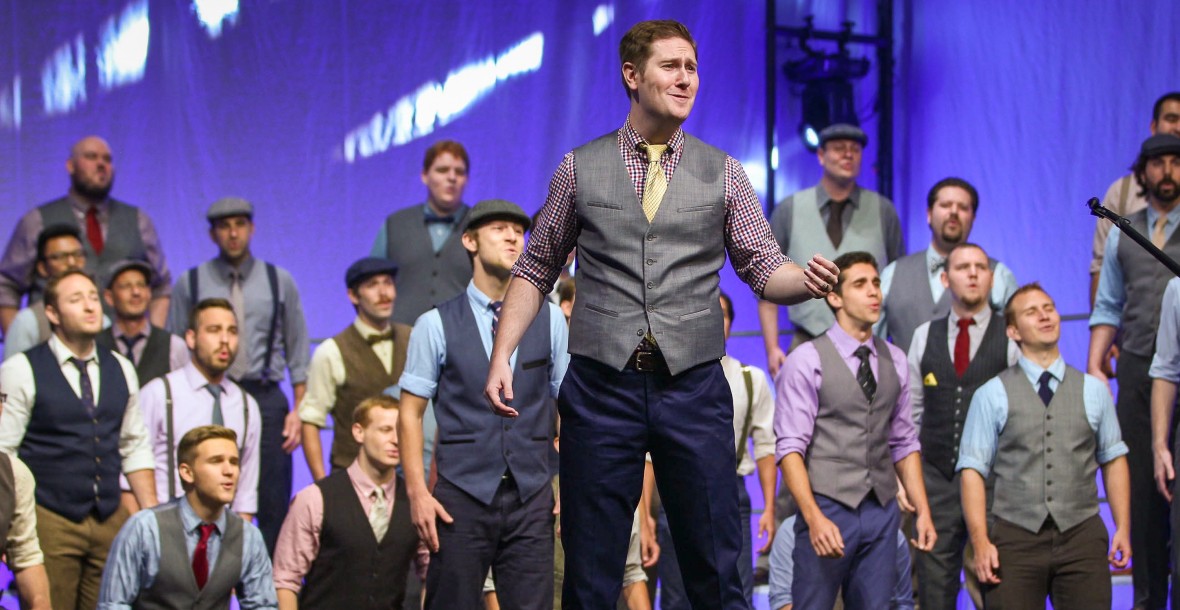 Justin Miller
The son of John Miller, twice international champion bass [Grandma's Boys, 1979, and New Tradition, 1985], Justin Miller grew up surrounded by quality barbershop music and "attended" his first international convention at the age of two. In 2002, when he was 18, he joined both the Barbershop Harmony Society and the Masters of Harmony, and, as a singer, won three gold medals with the chorus (2002, 2005, and 2008). He also served the MOH as a board member-at-large, presentation coordinator, and assistant director, and for four years attended Chapman University, earning a Bachelor of Music degree, majoring in both music education (vocal) and performance (conducting). Though primarily a baritone when singing in choruses, at Chapman he sang tenor and entered the College Quartet Contest and finished fourth three times: with Afternoon Delight in 2005 and 2006, and with the University Vocal Band Express in 2008.
In 2008, Justin also became music director of The Westminster Chorus, with whom, as a singer, he had won the international championship the year before. In 2009, he directed Westminster to the title of "Choir of the World" at the International Eisteddfod in Llangollen, Wales. The following year he directed Westminster to its second international chorus championship, garnering the highest score ever achieved by a competing chorus (97.7%), and also became the youngest director in Society history to win a chorus championship.
Understandably, Justin is extremely active in the Barbershop Harmony Society, where he is a certified Music judge. He has served on the faculty of Harmony University and is a sought-after quartet and chorus coach. While born in Southern California, Justin was raised primarily in Westport, Connecticut, and in 2010 moved back there to be the choral director at his alma mater, Staples High School, and also directed the Big Apple Chorus in Manhattan, NY. However, in the summer of 2012, Justin returned to Southern California to teach at Mater Dei High School in Santa Ana, where he is now the Associate Choral Director. He began directing the Masters of Harmony on August 22, 2012, and at the 2014 International contest in Las Vegas led the chorus to a second-place silver medal, garnering the second highest score in MOH history.